10 Things to do in Sydney
Hyde Park, Manly and Bondi, The Opera House, the Harbour Bridge, the Botanical Gardens…you'd be forgiven for thinking that even by just focusing on the major tourist attractions there is a glut of things to see and do in Sydney. But this article isn't about those things. This is a list of hidden gems that only in-the-know locals are aware of. Impress your visiting friends by taking them to one of these 10 secret spots and get to know your own city even better in the process.
Logo Social celebrates its first year as a top-notch producer of artistic, creative clothing.
Launching a business in any industry is a difficult undertaking, but Logo Social started with a mission to be different from all the other clothing manufacturers on the market. This brand celebrates freedom of expression, artistic style, and cultural acceptance. They launched their business in December of 2018 and have continued to grow stronger every day.
Logo Social and Aisle6ix Create Live Art with the Children of Sydney Children's Hospital
Logo Social and Aisle6ix Industries held a 2-day workshop for the kids at Sydney Children's Hospital as part of their art program. The kids learned how the screens are printed and got to design some shirts of their own.
Streetwear re-sharing & influential instagram pages
Fashion has come along way from the conventional and traditional trends. Now a day, you see trends that are older, unique and contemporary. One of these unconventional trends is streetwear that takes over the internet.
15 BEST AUSTRALIAN FASHION BLOGGERS TO FOLLOW ON INSTAGRAM

Every time one opens their Instagram, they see it littered with influencers. Everyone everywhere is becoming one. The internet is bombarded with influencers and fashion bloggers left, right and centre. More than anything else, Instagram is filled with bloggers of all kind, reviewing products, restaurants, businesses and services for their followers. The influencer race is a very competitive one.
7 Best Graphic T-Shirt Streetwear Brands You Need To Know
It's been long since streetwear has been an alternate term for luxury as well as comfort. It's the perfect combination of fineness and class mixed with authentic street fashion. Here are the seven hottest brands that you can try if you are in love with streetwear.
7 BEST STREETWEAR STORES IN SYDNEY

7 stores in Sydney where you'll find your favourite streetwear brandsIt's Friday afternoon, and like a few thousands other Sydney-siders, I've got a beer in hand and i'm feeling hot-damn ready for the weekend.Don't know about you, but being the start of Autumn, it feels like a pretty good excuse to update my wardrobe. Fresh kicks and steezy tees, come at me.
Today is a wet day. After a week of glorious sunshine – the day of the much-anticipated Days Like This Festival – it decides to chuck it down.Rain doesn't normally dampen my spirits. I'd choose heavy rain over intense hot sunshine for a festival any day.But what does dampen my spirits is the looming apprehension I have about NSW's new legislations around festivals, and how this might impact the day.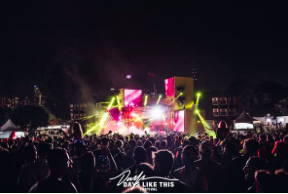 The War on Festivals: pill testing gets support from City of Sydney councillors

Following a Monday night meeting, City of Sydney councillors have unanimously resolved to support proposals for a NSW drug summit, and work with medical professionals who had expressed interest in running a drug-testing demonstration.After 2 NSW festivals announced they had to cancel due to new strict NSW licensing laws, support for a drug summit and a drug-testing demonstration has been announced by City of Sydney councillors.
It's peak summer vibes and Sydney is getting loose at Electric Gardens Festival.Words Alexandra LongstaffIt's Australia Day 2019, the height of summer, and I'm about to descend into a lair of much-anticipated electronic hectic-ness.Given it's hotter than hell, today starts with a trip to the two dollar shop to grab a trusty fan. With temperatures set to reach between 33-38 degrees, I sure wasn't going to head into a hot field unarmed.